Tetra Digital & Analogue Trunking Radio Systems

The new all digital civil Tetra (Trans European Trunked Radio) system operates in the band ;

410-415 MHz Portable Transmit
420-425 MHz Base Transmit
Band ranges from 410 to 430 MHz Subject to future Expansion
Dolphin had been bought out of administration by Inquam on the 12th June 2002

Dolphin once again went into administration as Inquam could not operate the system profitably

and the network was closed down on 30th July 2004 and subsequently the assets were sold off.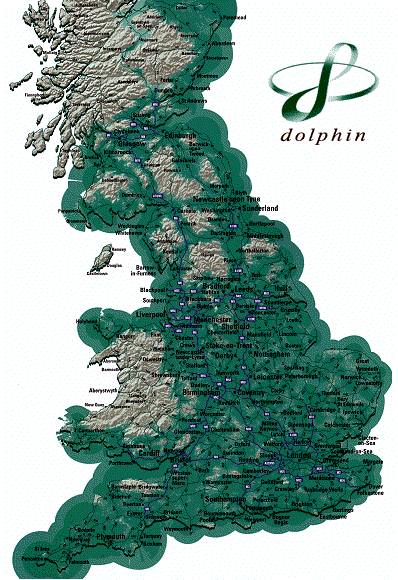 Motorola d700 Tetra Dolphin Handset
---

Analogue Trunking

Being interested in analogue trunked radio systems since they began back in the mid 80's here is some information that I hope may interest you;
Many people are confused by the name 'trunked' and what it means. It can be easily explained as that every radio on the system 'listens' on a control channel, that is a data transmission giving the radios all their instructions.
When a call is received, or made, the controlling data transmission tells the radios who wish to speak to each other which channel they need to switch to. When speaking on their voice channel a normal 'talktrough' repeater is used to allow the sets to talk to each. Most sites have about a 10 to 12 repeaters on them and the control channel allocates each call as it is made.
What is the use of all this computer technology you say! well a system of 12 repeaters and controller could support several hundred if not a thousand or more customers. These would normally have to be allocated individual frequencies and their own system each! basically its a very economical/efficient radio communications system.
National Band 3 the original operator of analogue trunk in the UK gave notice that their service would be closing at the end of April 2002.

---
---
In the UK there are;
National Systems - Fleetcomm National is now the only national operator (National Band 3 Closed down in April 2002)

Local Systems - Hillnet/LWA/LCM/Mercantile/Metro London/Metro Capital... to name a few!

Equipment is available from many manufacturers as MPT 1343/1352 is a open standard
In the UK the Name Band 3 comes from the old Band III television service which closed down
nearly two decades ago and now the trunking systems operate there.
The analogue trunking system band is spilt into two parts;

Band3 Sub Band 1 - 177.2125 > 183.4875MHz Base Transmit / Mobiles Transmit + 8MHz

Band3 Sub Band 2 - 201.2125 > 207.4875MHz Base Transmit / Mobiles Transmit - 8MHz

---
Typical analogue equipment available ;
---
Trunking related links ;
Truksniffer Pro Software
Trunkview Software
---

Back to Home Page


---